Alona Rodeh: A journey From Past Ideology To Future Reality
Interview by Malte Kröger
Large-scale, often room-spanning installations that combine light, movement, and sound are in the core of Alona Rodeh's work. Her latest productions revolve thematically around topics of urban illumination and raise questions about how orientation can be established in post-modern nighttime environments. Publication making has also been instrumental in Rodeh's practice. On the occasion of Architecture of the Nights, her solo show at Kunstpalais in Erlangen and Safe and Sound: The Third Dimension, its accompanying publication, curator Malte Kröger sat down with the artist to discuss her particular approach to printed matter.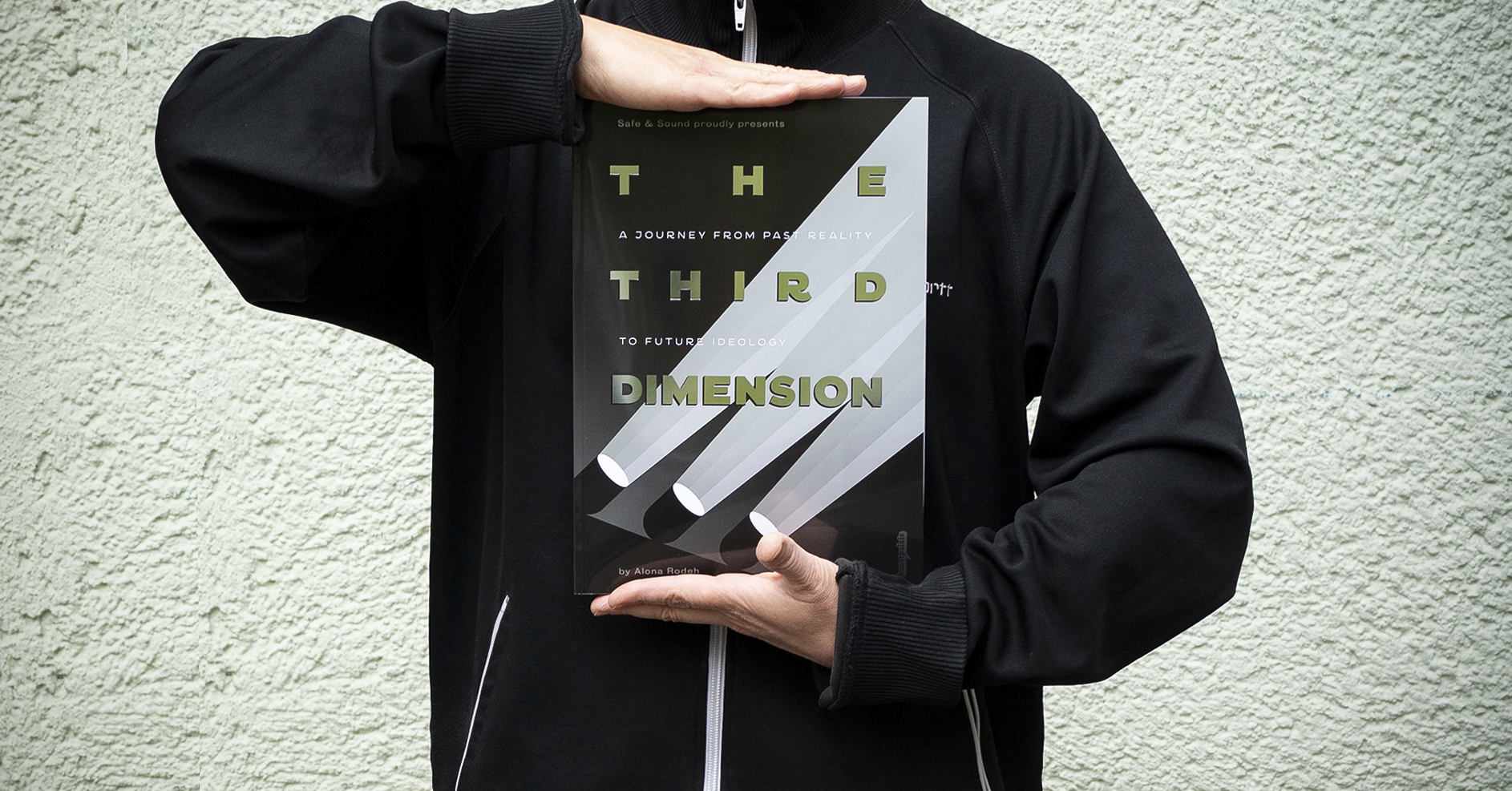 Malte Kröger
Safe and Sound: Deluxe Edition was published in 2015, followed by Fire: Safe and Sound (2017), and Safe and Sound: The Third Dimension (2019). Why did you choose the magazine format? What makes it appealing to you and what do you think makes it appealing to your audience?
Alona Rodeh
Publication making is an absurd "sport", let's start with that. There is no commercial or ecologic excuse to justify its current bloom; however, as a book reader and maker, I insist there still is value to printed books, or even i dare say a growing value. The added depth good design can bring and the quality of "zen reading" is more precious than ever. I published two other books before printing the first Safe and Sound with no idea of a series in mind. After printing the third Safe and Sound, it's clear that this series is an essential operating tool for my work. The main focus of the series is a cross-examination of visual and sonic expressions of safety and security in the public sphere through architecture, technology, culture and more. It takes from different worlds which at first glance one might not perceive as related. The magazine format, in shape and concept, allows this collage-like workflow of ideas. My work feeds on these studies, and hopefully these subjects and their appearance relate to a few other individuals than myself.
MK
Your installations are often complex works that draw from a detailed knowledge about their technical components. Yet the research into the material and cultural histories of the objects you are using for your artworks is an equally important part of your working process. Are your artist publications a direct outcome of your interest in theory? And what role do your publications play in the larger context of your work?
AR
For me, the technical, structural and material aspects of a "thing", whatever it may be, is equally important as its cultural values. Looking at high-visibility industries, for example, can teach one a lot about society's anxiety or trauma. Understanding why and when high visibility patents were invented and who invented them, gives one an insight into the world of magic, entertainment as well as army supplies and road building. Making these publications pushes me to spend far more time looking into these things. The spectrum of the research is as wide as it gets. Naturally, this ongoing process gives more depth to the works themselves, in addition to other forms of experimentation in the studio and outside it.
MK
The title Safe and Sound: The Third Dimension is derived from a quote by László Moholy-Nagy who proclaimed the use light in three-dimensional space. The publication puts special focus on our use of artificial light, precisely in the context of urban lighting and in connection to architecture or indoor public spaces such as discotheques. Can you give a little bit of insight into your creative process once you pick up a topic like this?
AR
I was interested and working with sound and light for a while now. I see the two intertwined since often they appear together, in particular in the context of night clubs, though not only. For example, many of the rental companies for film industry offer sound and light services together. And of course they are both, in a way, ungrabbable: light waves, sound waves. They are atmosphere, energy, ambience. In any case, I felt a certain saturation from sound and wanted to go further into light research. It is a subject tough to handle; There are theories of light, and in design and architecture awareness of it is growing; But it's still more or less a black hole of knowledge and experience, and lacks language to discuss it. In relation to how critical it is for visual culture, I thought it would be interesting to try to put things in words and print. In fact, my appetite only grew with the making of the book: if I only could, I would add more than a few elements to the existing.
MK
Besides the rich content delivered through the publications, their aesthetic makes up an equally important part. Contentwise, but also visually, they consist of extremely heterogeneous elements held together by a compelling visual language. In the case of The Third Dimension there are, just to mention a few: adverts for safety doors from the 1970s, a historical book cover from 1930, visual homages to works by Anni Albers, archival materials like texts and photographs and, in the case at issue, the installation shots of two of your exhibitions. Since day one of the Safe and Sound series you work with a long-standing collaborator, the Israeli graphic designer Rachel Kinrot. How did this collaboration come into being?
AR
I am a big fan of graphic design, and early on I was working as a graphic designer for Israeli TV and always enjoyed it. I got lucky and found Rachel, who is obsessed enough for her profession and opinionated enough to dive into this experience with me. Knowing where it will start but not where it will end makes working together different from the average relationship between a graphic designer and a customer, even in the case of an artist. I am involved in every detail on one hand, but on the other I rely on her to bring in her ideas, shapes and concepts non stop. It starts with me throwing in all the visual information I gathered. Usually, it takes some time to warm up, try things out until we truly mix and understand one another. And when that happens, it's magic. I am grateful for this collaboration, it's inspiring and takes a central role in the making of these publications. Thank you, Rachel!
Alona Rodeh is a visual artist based in Tel Aviv and Berlin. Alona will be an artist-in-residence during Making Futures School.